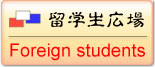 Support of translation into English:
When you write the inquiry or the answer, this site can support the use of the charge-free translation site where a certain mother language is translated into English, though the Environmental Plazas are English.
Forerunner cordiality
About this site
This web site has been opened and supervised since 2005.
Purpose
"For international students learning in Japan"
The globalization of the economy and culture, and then people-to-people exchanges are advanced.
To know the wide world and to improve an own possibility, the international student who leaves their country and the region that came into existence has increased.
Also in Japan, a lot of young people are learning as an international student and a pre-college student.
This website was started with the slogan "The international students will create Asian future".
Mission of Taigongwang.net is to support international students and pre-college students by utilizing this website. The website intends to deliver messages to the young people especially in East Asia.
We share information of Examination for Japanese University Admission for International Students (EJU), scholarship information, Japanese Language Proficiency Test, and job opportunities in Japan as well as the information that we would like international students know such as, Japanese culture, climate, and customs.
At the same time, we will deliver the message about moral values in East Asia, wisdom of living, point of views, and traditional cultures in each region.
Furthermore, we will conduct interviews with former international students who learned in Japan to get "support messages for current international students".
We would like for students who learn in Japan to take this opportunity to know more about what Japan is working on to protect environment. We will also introduce environmental techniques in each country and set up the forum to share the experiences and knowledge related to the environment in each region.
Function
Languages permitted at 'International students Plaza' is English and Japanese only.
In any thread, not all the sentences of any reply will be shown.
At any thread, entries will be made after using a password for entries. Only the creator of the thread can read all the sentences and sender of replies using password.
Note: For three squares of environment issues, English is the only common language that can be used (there is a support for some language to use free translation software).
In there, people from same country/region to the creator of the thread cans not reply.

Site name origin
Site name is derived from an actual person Tai Gong Wang from 1100 BC in China, who played an active role in building Zhou dynasty.
Please click Taigongwang(太公望) for detail.
Excursus:
Logotype of taigongwang.net
The logotype of taigongwang.net is "e-太公望(Taigongwang)" using ancient Chinese character that we examined it in a library.
We first tried to write this logo with finger on the Japanese shore sand, which was assumed to be Chinese yellow and took picture of the logo. However, we were not happy about it. Then, as a second plan, we put ink on figure and wrote the log on the paper. The finger could not hold the ink very long and letters became patch easily, even leaving finger print. However, we adopted this as our logo.