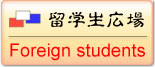 Support of translation into English:
When you write the inquiry or the answer, this site can support the use of the charge-free translation site where a certain mother language is translated into English, though the Environmental Plazas are English.
Forerunner cordiality
Mr. Mo Bangfu 's "Word to International Students "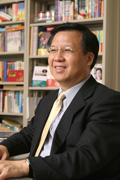 Mr. Mo Bangfu came to Japan in 1985 from Shanghai as an international student. Mr. Mo is a Pro-Japanese Chinese journalist, a lecturer who usually gives his lectures on issues of politics, economics and cultures.

During my interview with Mr. Mo, he talked heatedly about his own experience, what the international students in Japan want to know, his recently published works and writing activities. One hour was too short for the interview which was summarized into the "Word to International Students".
---
"The international communication in Asia will become more and more active through overseas education, I think."
When I (Mo Bangfu) began to learn the Japanese language in 1973 when was in the Cultural Revolution Period---people were forbidden to have contact with foreign people. In addition, I had no Japanese dictionary to make use of and was not allowed to read Japanese language published book. I came to Japan in 1985 after a long period of anticipation, and since then I experienced a lot, met many people, leaped over a few hurdles and strengthened the emotional ties with Japan.
There were many international students who had benefited a lot from communication with Japanese students, friends, teachers and warm-hearted Japanese people. Many of them came to like Japan after the early and hard stage of their stay in Japan.
At the same time, there are probably some people, for example, some international students or students studying in language school, who tend to dislike Japan due to the difficulties loaded on them in their living or studying. Their dislike of Japan is reasonable when we take their individual perspective into consideration.
However, since we are living and studying in Japan, we should try our best to grasp the Japanese language and deepen our understanding of Japanese culture.
After we know the Japanese culture and tradition to some extent, we can now consider our feeling to Japan seriously. If we still dislike some aspects of Japan's culture or tradition, we should tell our dislikes to Japanese people and exchange idea with them. But it is not good to insist on some preconceived thinking, such as "Japan is always a worldly-wise nation".
Meanwhile, the Japanese young people who are studying in China or other countries may face the same situation as foreign students in Japan.
In this rapidly changing times, observing the outside world using preconception probably causes some unexpected mistakes. We should establish good relationships between peoples or countries by self-learning, thinking and experiencing rather than preconception."
With the memory of the interview, I walked on the street. In front of one Japanese styled eatery named "Monjayaki" in the underground restaurant area, I noticed that four or five female university students were trying to introduce Monjiayaki with mixture of English and Japanese to an international student, who looks like their friend. Although their English was not very good, the eyes of the international student were shining with surprise or curiosity. I went to Haneda Airport thinking that the international student would come to like Japan.
The related process, experience of studying, association with people in Japan was written in detail in his purported biography Is it my beloved Japan??CV of New Overseas Chinese 30 Years ( Iwanami Shoten 2002)
---
A Brief to Mo Bangfu
As a Pro-Japanese Chinese journalist, a lecturer, Mr. Mo Bangfu continuously gives his speeches about issues of politics, economics and cultures. He is famous because he has made the new Japanese word of "New Overseas Chinese" and "Snakehead" rooted in Japan. He always goes back to China twice a month to catch up on newest information and mixes with the rich instances to illustrate the newest China in his proficient Japanese language.
At present, his writing is serialized in The Asahi Shimbun (Saturday Version) with a high evaluation.
His work, Premises for Stepping Forward to Asian Top: China which has Become Modest, Japan which has Become Open-minded was published in early summer, 2008 and was very well received praise.
http://www.mo-office.jp/index.htm
---