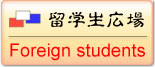 Support of translation into English:
When you write the inquiry or the answer, this site can support the use of the charge-free translation site where a certain mother language is translated into English, though the Environmental Plazas are English.
Forerunner cordiality
Alice M. King's "Word to International Students "
I interviewed Ms Alice M. King, commentator from Taiwan. Ms King was born in Taipei, Taiwan, came to Japan as an international student. Now she acts as Director of JET Academy. She often gives her opinions in mass media, too.
---
I, (Alice M. King), came to Japan as an international student in 1959 and was engaged in English teaching in several universities, while I put my studying position in universities for 10 years. My husband and I, run a Japanese language school. We have much contact with a lot of international students. (Note 1)
The most impressive matter of our experiences is that some young people do not know what they want to do, and even so, they are not determined to study with strong will, and the quantity of such students is not small.
Studying is joyful, but it curtails other wishes sometimes, and has connection with economic issue in actuality. It is originally natural that studying is accompanied by strong awareness or consciousness. But lack of studying consciousness or intention for present students is not confined to international students. Nowadays, many young people including some Japanese students have same problem.
The reason is that in family, parents always cosset their children from their birth, and their children are coddled continuously to their adulthood, and consciousness is not a must according to their parents` view. The parents` coddling to their children is not needed and not good.
These children gradually grow up to adult in such unfavorable atmosphere. If they still lack consciousness, they are likely to degenerate, I think.
The result of living without an aim is not good.
To design your life once again is the younger, the better. Young age is the best time for your life design.
There are so many people who do not know how to do.
Whenever and wherever, people can not turn their life toward correct effort direction without the belief of "your life is decided by yourself".
Regarding "your life is decided by yourself", ability is necessary for you. When you have many kinds of abilities, you have the right to choose your direction you should advance among the several choices which are thought possible. It is the key-point. When we take a look back to our life, we might say there were a lot of occasions or moments which can be called crisis. To overleap or avoid the crisis is very important. To develop ability is the best crisis management.
Young age gives you the brilliant privilege for ability increasing and studying. I want to tell the young people "Please earnestly and effectively use your time!" Especially, the international students purposely came to Japan from afar, are given good opportunities, should study Japanese culture and science/technology firmly.
There will be much difference to yourself and society between studying with all your might and dogging it.
I think only the students who make full use of the time of their studying or training, and the space of Japan are becoming to realize "your life decided by yourself". Please get through your life of studying in Japan in which your ability is increased.
The suggestion condensed from Ms Alice M. King`s experience of long international students education engagement is logically and full of pure and true love to international students although word is a little acrimonious.
Ms King straightened her back when she talked heatedly on the topic of international students. When I said goodbye, Ms King told me," We have same ambition and purpose, let us become partner and support international students together from now on".
Ms King saw me off with warm encouragement and her great smile.
Note 1
During her studying in Japan, Ms King encountered Mr. Zhou Yingming (the late, emeritus professor of Tokyo University of Science) and then married him, and they took part in Taiwan democratization movement, raised children, and ran one Japanese language school(JET Academy) shoulder to shoulder.
Ms King, embracing deep love to her sick husband, Zhou Yingming, wrote a book titled "Pure Love of Couple"(Published by Shogakukan, Inc. in 2007) in retrospect of their careers. The book is autobiographic styled couple/family`s theory. To understand Ms King`s sayings and doings, this book is very suitable.
---
A Brief to Ms Alice M. King
Ms King was born in Taipei, Taiwan, graduated from Taipei Municipal First Girl`s High School. She came to Japan as an international student in 1959. She graduated from First Literature Department of Waseda University, majored in English language and literature, studied in doctoral course, Literature Research Section, Graduate School, Waseda University and completed all credits. She was a Visiting Scholar of University of Cambridge. She works as Principal and Director of JET Academy. She is also active in mass media as a commentator. Because she took part in Taiwan democratization movement, she was written in the black name list. She threw away her invalid passport and sent very hard life of more than 3 decades, during which she did not know when she was probably arrested as a political criminal and sent back to Taiwan. She has a lot of fans, for she has such a consciousness and strange background and often gives her severe opinions in mass media.
After Mr. Li Denghui (studied in Kyoto University in 1943) became President of Republic of China as a first Taiwanese, Ms King was released from the black list in the torrential democratization tide of Taiwan. In 1992, she finally returned to her homeland where she was away for 31 years. At present, she still keeps her active attitude to encourage young people using her severe, but warm word.
---